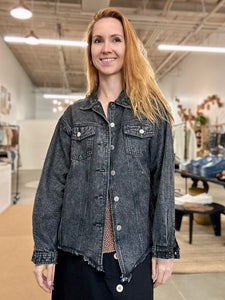 Black Washed Denim Jacket
• This jacket is the perfect edgy layer to elevate your leggings & tee combo this fall
• Distressed hem detailing and a relaxed shape make this jacket a statement piece!
• Runs true to size with a relaxed fit 
the best customer service
I visited the Fountains location a few times. The store looks so good, and the overall atmosphere gives you a great shopping experience. I have got this beautiful jacket, jeans, tops, skirt, and a couple dresses. Items are really good quality, especially for the price. This is the place to go! Diana helped me to match all the items in the way I did not think about! She is so knowledgeable about body types and styles!
---
This Week's Best Sellers