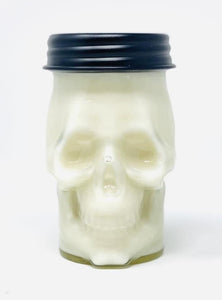 PREORDER Skull Shaped Soy Candles
Ships in 1-3 weeks!  If you order this with other items, the entire order will be held until all items are ready. If you need immediate ship, PLEASE order separately! 
Jumbo Halloween Skull Candles are 16 oz each and have a 100 hour burn time.
Scents
Goblins and Ghouls

 

(Caramel Popcorn - a warm blend of buttery and sweet caramel with notes of popcorn, coconut, and vanilla)
Spooky Spells

 

(Glazed Donut - Fresh, warm doughnuts with lots of gooey glaze)
Witches Brew

 

(Apple Cider - Crisp, juicy apples with just a hint of spice)
Vampire Bites

 

(Candy Apple - a mouthwatering blend of crisp apple, candied orange and rich cinnamon spice)
Graveyard Spirits

 

(Pumpkin Spice Latte - A hot cup of coffee flavored with creamy butter, clove buds, cinnamon sticks, coconut and vanilla syrup. Inspired by the Starbucks® scent)
Candy Corn

 

(Roasted Marshmallow - warm vanilla candy with top notes of butter with a slight down of almond.)
** Due to the nature of natural soy wax, the wax may vary in texture and color. 
---
This Week's Best Sellers